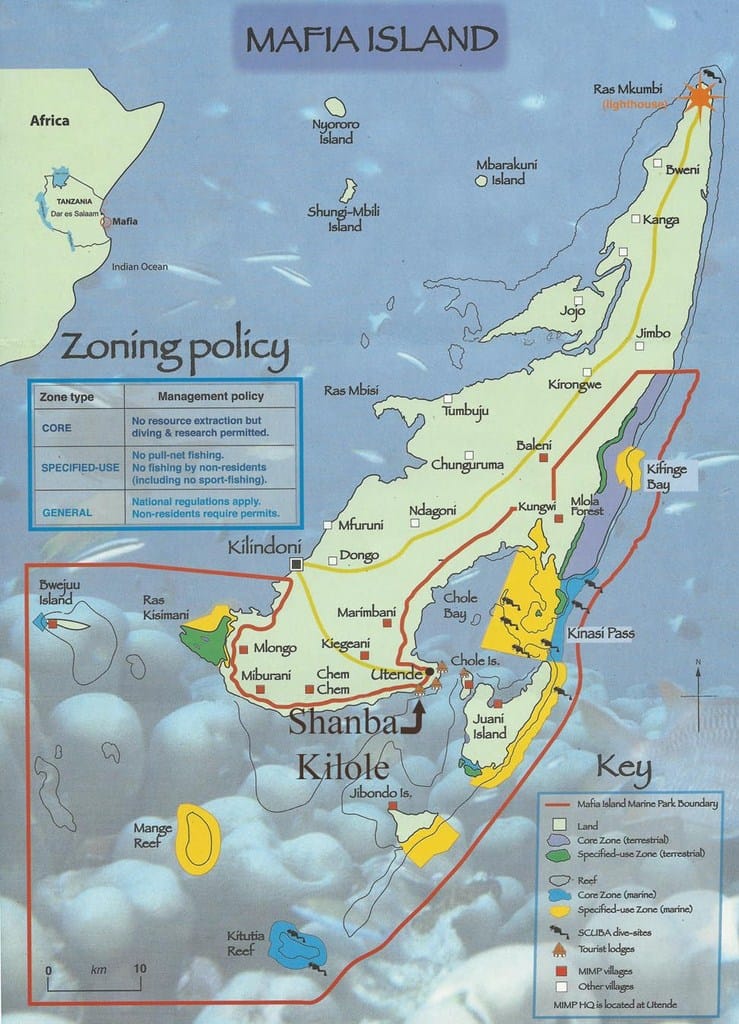 Mafia Island and its chain of small islets lie approximately 120 km south of Dar es Salaam and 20 km offshore from the eastern extent of the Rufiji is one of the largest delta systems in Africa. To the east of Mafia Island is the Indian Ocean. The main island of Mafia is about 48 km long and 17 km wide at its widest point. Several smaller islands and islets are scattered to the west and south. 

Mafia Island Marine park covers an area of 822 km2 and is located between S 07 45'07" and E 39 54'01" and S 08 09′ 40″ and E 39 30'00. Annex 1 of this plan provides a detailed description of boundaries. The park covers the Southern part of Mafia Island and includes the inhabited islands of Chole, Juani Jibondo and Bwejuu and several uninhabited islets and the associated waters.



Mafia Island Marine Park is one of the most interesting marine eco-system and coral reefs in the world, excellent in terms of biodiversity of corals and pristine reef fish.
The richness of the range and average of the species of fish and corals inside Chole Bay, due to the protected nature of the coastline, the quantity of encrusting corals, brain and soft corals and the range and average of small organisms on the vertical walls outside the bay, make Mafia excellent in terms of bio-diversity.
Mafia is recognized as a global biodiversity hot-spot.
Here below you can discover the incredible variety!!!
Click on the name to see the pictures